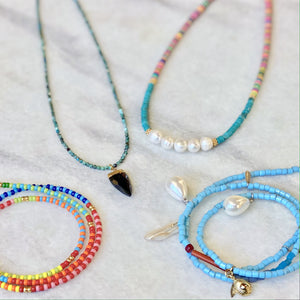 Stringing 101
Regular price $ 30.00 Sale
Let's start with the basics! Students will choose between 2 styles. The first is a 14-20" single stranded beaded necklace with an extender chain. The second style is a wrap bracelet that can be worn 2-3 times around your wrist. In this workshop, you will learn how to connect a beaded necklace to chain using Softflex beading wire and crimps. Both styles will cover the same techniques, just different looks. In addition to the technical aspect, design will be a main focus of this beginner level class. The sky is the limit! Students will go home with a stylish piece of jewelry that they will be proud to wear.
Included in the price of the class is:
-beading wire
-chain
-findings-crimps, crimp covers, clasp etc.
Beads are not included, however you will save 20% on any additional materials, beads or tools purchased on the day of the class.
There will be some time allotted for bead selection, but come early if you want a little more time to browse.
Workshop sales are final. If you need to reschedule, please call within 48 hours. If you are going to be more than 15 mins. late, please call to reschedule. No shows will forfeit the cost of the class.