PLEASE CALL AHEAD TO BOOK AN APPOINTMENT FOR JEWELRY SERVIECES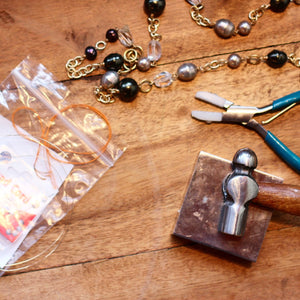 Jewelry Repair and Redesign
Bring in your broken or outdated pieces and a professional jewelry artist at Beadniks can assist you with revamping and/or repairing.

Jewelry consultation is free. Please call 773 276-2323 to set up an appointment.
Beadniks charges $36/hour for repairs.
Jewelry Finishing
For a small table fee of $5 you will have access to all of the tools and receive assistance in finishing your piece. Services include: adding clasps, tying stretch bracelets, wire-wrapping a pair of earrings, slip-knotting a leather necklace and select wire work projects.

If you are new to beading, have a small group, or just want a little extra attention, please call 773 276-2323 so we can be staffed to better to assist you.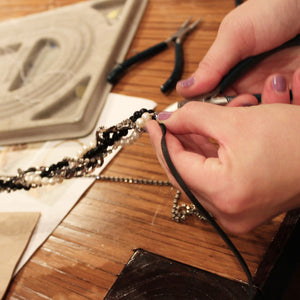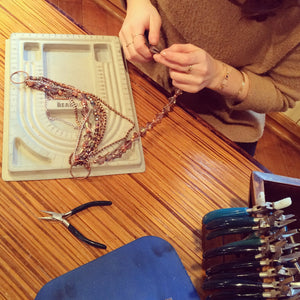 Custom Jewelry
The inspired design team at Beadniks is happy to work with you to ensure professional craftsmanship. Whether you bring beads from your own collection or purchase them from our store, we are here to help.
Beadniks charges $36/hour for custom jewelry.
Bridal Jewelry
Jewelry for this special occasion deserves professional attention. Beadniks has the experience, creativity and selection to satisfy all of your bridal accessory needs.

Design unique jewelry that fits your personal style & budget.
Options include:
Learn all the techniques needed to create the jewelry yourself.If your schedule is full, allow the professionals to do the work.Invite your Bridal party to create custom jewelry and the creative artists at Beadniks will assist in designing and assembling.Please call 773-276-2323 to set up a complimentary consultation.