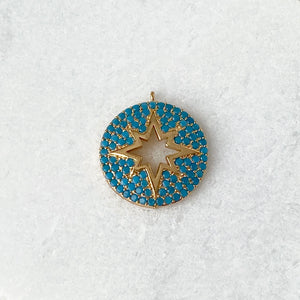 Starburst Charm with Turquoise Micro Pavé Crystal
Regular price $ 36.00 Sale
The turquoise crystals give a pop of color to a classic eight pointed star charm.
Can be worn alone as a pendant or added to a bracelet as a charm.
The eight pointed star charm appears across many different cultures and times and represents many different things:
The Compass Rose-exploration and discovery
Ancient Babylonian- love and fertility
Judeo-Christian- rebirth and new beginnings
Native American- knowledge
Hinduism- wealth and prosperity
It represents different things in different cultures 
This charm is just smaller than a US quarter. It is made of CZ crystals set in gold plated brass.